Summary
Part 2 of the Essential Guide to Effective Networks focuses on twelve Network Health Factors. These health factors are essential to the effectiveness and success of a network. They are organized into three broad categories: Purpose, People, Process. Within these three categories, there are twelve essential elements: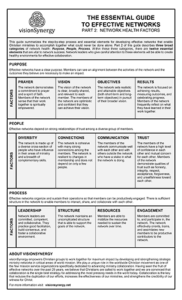 Purpose

Prayer
Vision
Objectives
Results
People

Diversity
Connections
Communication
Trust
Process

Leadership
Structure
Resources
Engagement

Network leaders who give careful attention to these health factors will be able to create healthy environments for effective collaboration. In conjunction with the Network Health Scorecard, this guide provides network leadership teams with a practical framework for evaluating and discussing their network's health and effectiveness.
Downloads
Related Resources
Essential Guide to Effective Networks – Use this guide to see the health factors (pg. 3) in context.
Network Health Scorecard – Use the scorecard to evaluate your network's health and vitality in the twelve areas.