Designed for Impact: How Design Thinking Helps Networks Take on Complex Challenges

Facilitator: Mark Avery
Date: Tuesday, 21 May 2019
Time: 7am PDT / 10am EDT / UTC-7 (time zone converter)
Length: 90 minutes
Cost: Free
Webinar Description:

Perhaps…
Your new partnership is exploring how it can increase it's ministry impact
Your partnership has worked on several projects together, but is struggling with what efforts to prioritize, or
The network's ministry partners want to be involved in projects that better align with both their organizational purpose and the network's purpose.
Regardless of your network's specific situation, most of us have a gnawing sense that there is more we can be doing to have an impact! The good news is, you're right; there is…but it's going to take new tools, new mindsets and renewed prayer to get there!
In this upcoming Synergy Commons webinar, Mark Avery will be showing how design thinking tools can help networks better understand their work's context, increase engagement, and strengthen collaboration by creating a shared understanding of:

The context or system your network is trying to impact
How things work in this context, and
How you can work together to change the outcomes.
This webinar will be a 90-minute, hands-on, workshop-style webinar in which participants will have a chance to work together through a scenario using a design thinking process.

Learning Outcomes:
As a result of attending this webinar, participants will:
Identify the critical importance of building a shared understanding
Appreciate the power of empathy to help us collaborate more effectively
Explore how to use timelines and story to identify points of influence in your context
Understand when a design tool would be most useful to your partnership or network
Who Is This Webinar For?
Ministry Collaboration and Network Facilitators
Ministry Collaboration and Network Partners
Church and ministry leaders
About the Presenter:
Mark Avery – Director of Missions and Outreach for Zarephath Christian Church. Former consultant with Inscit Consultancy and Instructor at Fuller Seminary on partnerships, systems thinking and design work.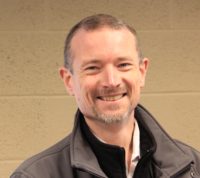 Mark was born in England and was raised in a Christian home from the age of six when his mother gave her life to Jesus Christ as her Lord and Savior. Growing up, Mark has lived internationally due to his father's business in Europe (Belgium), and later in America (NJ/CA/GA). At the age of 18, he felt called into full time work reaching out to those who had yet to hear the Gospel. After getting a degree in TEFL/ICS, he spent over a decade focused on a displaced UPG in Asia, living in Nepal and later in India.
After 5 years on the field, Mark began to gain a growing sense of "godly discontent" (Hybels) combined with vision for the potential of strategic collaboration in mission. This led to a Ph. D. program at Fuller where he studied partnership dynamics in depth, graduating in 2005. Coming out of that study, the desire to see the potential of strategic collaboration had become a passion. Mark served as regional coordinator for an international network focused on his UPG, as well as consulting with several national and international networks, many of which focused on either UPGs or the horror of Human Trafficking.

Over the last 15 years, Mark has taught on partnership, systems thinking and design work on a masters and doctorate level (Fuller), as well as within a for-profit consultancy (InScit). He has led workshops, seminars and consultations with over 100 mission groups/networks/partnerships in Europe, Asia and the USA, and has developed a set of customized design/innovation tools. Designed to move a group from formation to strategic operation, these tools guide participants through a four stage process from understanding context to identifying interventions to prioritizing a pattern of action into developmental learning.

Mark now serves as director of mission and outreach for Zarephath Christian Church in NJ where he lives with his wife Asen and two daughters, Jessica and Ferne. He loves trekking, carpentry and motorbikes…and Cadbury's chocolate!