Summary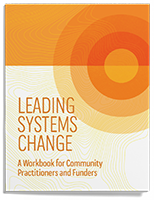 This workbook offers a "toolkit" for creating systems leadership—particularly in the context of place. While there are a number of good books and articles on how to create various types of networks for impact—especially collective impact projects—there is very little on how to build leaders' capacities to be "system leaders." Ultimately, we wanted to create a resource that speaks to both aims: building a systems change network and building leaders' skills for a new era.
Some people would call the work described here "civic innovation" or "civic entrepreneurship" or "systems entrepreneurship," or even the more dated "community leadership." We call it leadership for systems change—a process for unleashing a network of leaders on the local systems in which they live and act.
We wrote this workbook for:
The brave new wave of civic leaders on the front lines of social change looking to grow their ability to impact systems;
Communities with high potential to transform their trajectories through cross-sector collaboration;
Funders and conveners seeking to create holistic leadership networks or to support more networked ways of working among grantees and within communities; and for
Designers and facilitators who crave real-life models of networks that "show don't tell" the way forward.
While this book is written for civic, community development, and social change leaders, ministry and network leaders working towards large-scale and transformative change often find themselves encountering similar barriers, challenges, and cultural systems. One of the main reasons is that these kinds of issues are complicated, large scale challenges that cannot be solved with standalone solutions or organizations working in isolation. To see the change we desire requires us as leaders to rethink how we approach them. This book will help you in that process.
Citation and Resource Link