Summary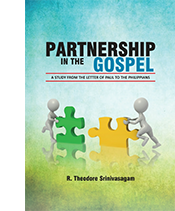 Author, Dr. Theodore Srinivasagam, has conducted an in-depth study of the book of Philippians and brings to us various principles of partnership and Christian unity, which are important as a Christian and also for our Christian witness so that the world will recognise that we belong to Jesus.
Dr. Theodore Srinivasagam has many years of mission and partnership experience. He is the Former General Secretary of the Indian Evangelical Mission (IEM) and the India Missions Association (IMA). His counsel and experience has helped many Christian organisations including Interdev-India, on whose board he served as a Chairman for many years.
It is our prayer as we publish this book "Partnership in the Gospel" that the Lord will help us and all who read this book to understand and apply the principles of partnership to our lives and ministry.
Key Ideas
While we do not find the words "collaboration" or "partnership" often used in Philippians, we do find it lived out and modelled for us by the Apostle Paul and the early church.
The very nature of God (God the Father, the son Jesus, and the Holy Spirit) give us both the capacity and a model for Christian partnership.
When we partner, it is a partnership both with God and each other.
In Philippians, we find many motivations for partnership and insights on the nature and spirit behind Christian partnership.
Testimonial
"Dr. Theodore Srinivasagam is a passionate advocate of partnership in ministry. His insightful teachings on partnership from the epistle to the Philippians has educated me personally and many leaders in the Church and Mission. I am delighted that this is now available in print for posterity. I highly recommend this book to all who have a heart for missions with a prayer that those who read this book will be become ardent advocates for partnership in mission."
Rev. Dr. I. Wati Longkumer
General Secretary, India Missions Association.
Citation / Resource Download